The forthcoming third season of Harley Quinn will consist of ten episodes and is expected to premiere on HBO Max sometime in summer 2022.
Synopsis
TBA
Episodes
TBA
Cast and characters
Main cast
| | |
| --- | --- |
| Supporting cast | Guest cast |
Production
Development
On September 18, 2020, almost three months after the second season concluded, Harley Quinn was announced to have been renewed for a third season which would be premiering on HBO Max[12] instead of the show's previous network, DC Universe which would be closing down its video streaming.[13] At the time, Patrick Schumacker and Justin Halpern estimated that the third season would be released at the earliest by the end of 2021[14] or early 2022.[3]
Patrick Schumacker revealed during an interview that several new writers have been hired for the new season and that they have worked to diversifying the staff more, finding it especially important to hire more LGBT writers considering the direction they took in the last season.[15] He also revealed that Dean Lorey would not be available to return as showrunner for the third season and would be replaced by Chrissy Pietrosh and Jessica Goldstein as co-showrunners alongside him and Justin Halpern.[16]
On February 20, 2021, DC announced a sequel comic to the show in their 2021 line-up[17] which Patrick Schumacker confirmed on Twitter would loosely tie into the third season and likely come out before the season's release.[18] Two days later, Schumacker announced that they had officially started recording the voice-acting for season 3, with Diedrich Bader, Jim Rash and Christopher Meloni all returning to the booth to reprise their roles.[5]
On March 3, 2022, Patrick Schumacker revealed on Twitter that they had finished the first audio mix of season 3, along with posting a teasing image from the season.[19] The following month, Schumacker confirmed on Twitter that the season would premiere in summer of that year.[20]
Confirmed plot-points
According to Jefferson Friedman, the music composer for Harley Quinn, a full musical episode can be expected in the third season.[21]
Speaking of a season three, Patrick Schumacker and Justin Halpern have stated that they want to delve more into Poison Ivy's character and backstory and tell more stories through her point of view. They also mentioned delving into Commissioner Gordon's failing approval rating in Gotham City and him dealing with the realization of how the Gotham City Police Department has failed the city.[14] They have also stated that the third season will be very Harley and Ivy centric, but asserted that they did not want the stakes to be whether or not they will break up, but rather focusing on navigating their new dynamic as a couple[22] and dealing with the change of being in a good relationship after mostly being in toxic ones and how that baggage would affect their current relationship.[14]
On March 4, 2021, the "Masters Of None" podcast released an interview with Executive Producer and co-head writer Justin Halpern, in which he revealed some news regarding Season 3. According to Halpern, the season will be released in late 2021 or early 2022 due to how long animation takes to produce. He confirmed that classic Batman villain the Mad Hatter will appear in the new season, there will be a standalone Joker episode as there was for Batman in Season 2 where they are planning to take the character in a direction that has never been done before, and Harley's crew will take another trip into a new character's head.[3]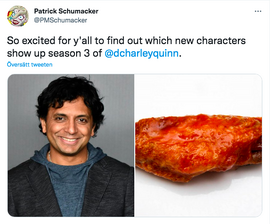 Later in March, Patrick Schumacker posted a tweet with photos of M. Night Shamalayan and a chicken wing, captioned "So excited for y'all to find out which new characters show up season 3" which fans easily deduced alluded to the character of Nightwing making his debut in season 3.[10] He also confirmed that Clock King would be in the season[11] and that the character of John Constantine would make a brief appearance.[23] Shumacker has also stated that the season will feature a fair amount of Catwoman and Batman together, but that their relationship will be less than smooth.[6]
In August 2021, Halpern and Shumacker went on the "Lavender You" podcast where they revealed a few new details about season 3 including that they would "push the envelope in terms of sexual situations" and that the very first scene of the season would "turn some heads". They also reaffirmed that Harley and Ivy's relationship will be going strong as well as that the season will explore Poison Ivy a lot and that a ton of episodes will be focused around her.[24]
On October 17th, as part of the DC FanDome event, the first official teaser for the third season was presented in an animated segment featuring Harley Quinn and King Shark. While there was no finished footage as of yet, the teaser comprised of several animatics with finished voice-acting. The teaser showed Harley and Ivy returning to Gotham City and Commissioner Gordon vowing to bring them to justice. The teaser also confirmed the arrival of some new characters, including Amanda Waller, someone who appeared to be Swamp Thing as well as the Court of Owls and the return of characters like The Mayor of Gotham, KGBeats, Cheryl and Bane.[2]
At the end of the Harley Quinn: The Animated Series - The Eat, Bang, Kill Tour comic series, Harley and Ivy were teased to be going to Central City, home to The Flash and all his villains, in the upcoming season.[25]
In March 2022, Patrick Schumacker revealed that the The Suicide Squad director James Gunn will be making an appearance in the third season as himself and would be directing a movie about Thomas Wayne.[7] He also revealed that an episode of the season would homage to Batman: The Animated Series where the character of Harley Quinn originates from. He teased that the episode would even contain some original backgrounds from the show.[26]
Controversy
A controversy arose when Justin Halpern revealed in an interview with Variety that a scene of Batman going down on Catwoman had been axed by DC who claimed that "Heroes don't do that" and that it would hurt their ability to sell toys of the character.[27] This comment blew up on the internet with many fans weighing in on the absurdity of the ban. Even Justice League director Zack Snyder commented on the controversy by posting an image of Batman going down on Catwoman to Twitter with the caption "Canon".[28]
Gallery
Videos
References