Harley Quinn is an adult animated web television series. It was announced on November 20, 2017 and premiered with "Til Death Do Us Part" on November 29, 2019 on DC Universe.
The series currently consists of two seasons with a third in production which is expected to premiere on HBO Max some time in 2022. In mid-2021 an companion comic series was announced and it debuted its first issue in September of that year.
Synopsis
Harley Quinn follows Harley's adventures after she breaks up with the Joker and strikes out on her own in this new, adult animated comedy. With the help of Poison Ivy and a ragtag crew of DC castoffs, Harley tries to earn a seat at the biggest table in villainy: the Legion of the Doom.[1]
Cast and characters
Main cast
Supporting cast
Episodes
Image
No. overall
No. in season
Title
Airdate
1
1
Til Death Do Us Part
November 29, 2019
In the series premiere, Harley Quinn is fed up being the Joker's sidekick and strikes out on her own – determined to become the criminal Queenpin of Gotham City.
2
2
A High Bar
December 6, 2019
Determined to become one of the vaunted Legion of Doom, Harley attempts to make a big splash by crashing one of their criminal enterprises with the help of her BFF, Poison Ivy.
3
3
So You Need a Crew?
December 13, 2019
Realizing she needs a crew to pull off heists that will attract the Legion of Doom's attention, Harley attempts to recruit Dr. Psycho and Clayface.
4
4
Finding Mr. Right
December 20, 2019
In search of a nemesis, Harley goes after Batman, but ends up with an adolescent Robin, making her the laughing stock of the criminal underworld.
5
5
Being Harley Quinn
December 27, 2019
When Harley suffers a paralyzing identity crisis, her crew must enter Harley's mind to free her with the help of Dr. Psycho's telepathic powers.
6
6
You're a Damn Good Cop, Jim Gordon
January 3, 2020
When Clayface loses his arm in a heist, it turns out to be not only evidence for Jim Gordon, but also a key witness against Harley and her crew.
7
7
The Line
January 10, 2020
Harley breaks the Queen of Fables out of prison to add some evil oomph to her crew – but maybe Fables is a little TOO evil?
8
8
L.O.D.R.S.V.P.
January 17, 2020
Harley gets an invite to the Legion of Doom's prospective members party, but Poison Ivy discovers that it's her they're really after.
9
9
A Seat At The Table
January 24, 2020
Now a member of the Legion of Doom and The Joker's equal, Harley finds herself spending time with him. Will she slip into her old ways?
10
10
Bensonhurst
January 31, 2020
After a falling out with her crew, Harley heads back home to Bensonhurst, where her doting mother waits for her... and her deadbeat dad, who's more dangerous than anticipated.
11
11
Harley Quinn Highway
February 7, 2020
Harley must rescue Ivy from the clutches of Scarecrow, who's trying to harvest her pheromones to make a super toxin that turns plants into sentient monsters.
12
12
Devil's Snare
February 14, 2020
Harley thinks the Legion of Doom is behind Ivy's capture and the tree monsters currently ravaging Gotham.
13
13
The Final Joke
February 21, 2020
In the season finale, Harley has her final showdown with the Joker, when [spoilers] [spoil] [spoilers]. Will they [spoiler]? Maybe. But you can bet they [spoiler]!
Image
No. overall
No. in season
Title
Airdate
14
1
New Gotham
April 3, 2020
After Gotham is declared no longer part of the United States, the newly formed Injustice League try to seize control of the city away from Harley in the season premiere episode.
15
2
Riddle U
April 10, 2020
Harley & Ivy go undercover as college students to take down Riddler, who's made himself dean of the local university with sinister plans for students.
16
3
Trapped
April 17, 2020
Harley and Ivy team up with Catwoman to steal a museum artifact that's been boobytrapped by Dr. Trap. Meanwhile, Dr. Psycho tries to prove himself as a leader.
17
5
Thawing Hearts
April 24, 2020
Harley and crew try to infiltrate Mr. Freeze's lair only to become human lab rats for his experiments to find a cure for his cryogenically frozen wife, Nora.
18
5
Batman's Back Man
May 1, 2020
Bruce Wayne awakens from his coma to find Gotham in shambles. Meanwhile, Two-Face attempts to forge a criminal alliance with Bane, to be the only two Big Bads left in Gotham.
19
6
All the Best Inmates Have Daddy Issues
May 8, 2020
When Harley and Ivy spot a seemingly sane Joker, they debate whether people can change at their core, revisiting a flashback about Harleen Quinzel's first day at Arkham Asylum.
20
7
There's No Place to Go But Down
May 15, 2020
Acting as a judge, Two Face sentences Harley and Ivy to life in Bane's prison. Meanwhile, Jim Gordon and Batgirl vow to take back the GCPD from Two-Face.
21
8
Inner (Para) Demons
May 22, 2020
Harley covers up for the kiss with Ivy by going to Apokolips to get an army to conquer Gotham.
22
9
Bachelorette
May 29, 2020
It's Bachelor/Bachelorette weekend for Ivy and Kite Man.
23
10
Dye Hard
June 5, 2020
Fresh off Ivy rebuffing her, Harley reconnects with a now-sane Joker and heads to Wayne Tower, where their dinner is interrupted by an escaped Riddler and ParaDemons.
24
11
A Fight Worth Fighting For
June 12, 2020
In order to defeat Psycho's army, Harley & Joker need to track down Fables' storybook with the Justice League inside.
25
12
Lovers' Quarrel
June 19, 2020
Darkseid agrees to give Psycho the world if he brings him the head of Harley Quinn, so Psycho controls Ivy to set her against Harley.
26
13
The Runaway Bridesmaid
June 26, 2020
Poison Ivy convinces Kite Man to go through with the wedding, but while they're preparing their special day, Commissioner Gordon is preparing to sabotage it.
Production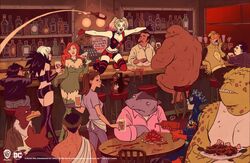 In November 2017, it was announced that Warner Bros' then-unnamed DC-branded digital service ordered 26 half-hour episodes of Harley Quinn, a half-hour adult animated action-comedy series. It was being developed by Justin Halpern, Patrick Shumacker, and Dean Lorey, who served as executive producers on NBC's DC series Powerless. Harley Quinn was the third series to be greenlit by the DC digital service, following Titans and Young Justice: Outsiders. It was rumored that Margot Robbie, who portrayed Harley Quinn in the 2016 live action film Suicide Squad, would be approached to voice the character.[10]
On February 2018, multiple casting calls from the series were released.[11][12] On October 3, 2018, Warner Bros. Animation unveiled a first look at Harley Quinn at the New York Comic Con. Kaley Cuoco was announced as the voice actress for the titular character, also serving as an executive producer through her Yes, Normans Productions banner, with Lake Bell, Alan Tudyk, Ron Funches, J.B. Smoove, Jason Alexander, Wanda Sykes, Giancarlo Esposito, Natalie Morales, Jim Rash, Diedrich Bader, Tony Hale and Christopher Meloni cast in undisclosed roles.[13] It was later confirmed that Bell, Tudyk, Bader and Meloni would be voicing Poison Ivy, the Joker, Batman, and Jim Gordon, respectively.[2][14][5] On October 11, 2018, Rahul Kohli announced that he would be voicing Scarecrow.[15]
The same day the season one finale was released, it was revealed that a second season was already produced and would be available to stream on April 3, 2020, consisting of another 13 episodes.[16] On September 18, 2020, it was announced via Twitter that the the show was renewed for a third season which would premiere on HBO Max[17] as DC Universe would no longer host video content and all DC Universe originals would migrate to HBO Max.[18] Co-showrunner Justin Halpern predicts the season will be released in late 2021 or early 2022.[19]
Release
On October 3, 2018, ahead of the annual New York Comic Con, a teaser trailer featuring Harley Quinn, Poison Ivy and Batman in Arkham was released.[20] A full, uncensored trailer set to Joan Jett's cover of the theme song from The Mary Tyler Moore Show was released on July 20, 2019 to coincide with the panel at San Diego Comic-Con.[21][22]
Harley Quinn premiered on DC Universe on November 29, 2019.[23] The first season started airing on Syfy on May 3, 2020.[24] The series airs on Adult Swim in Canada, with new episodes airing a week after their American premiere.[25] The series started airing on E4 in the United Kingdom and Ireland on May 7, 2020.[26]
In late June 2020, it was announced that the first two seasons would be coming to HBO Max on August 1, 2020.[27] On August 22, 2020, a fully animated Q&A featuring Harley Quinn was released as part of the DC Fandome event, wherein she answered questions from fans.[28]
The first season was released on DVD on June 2, 2020 and the second season was released on February 16, 2021 by Warner Bros. Home Entertainment.[29] The first two seasons were also released on Blu-ray in a box set by Warner Archive Collection on February 16, 2021.[30]
On August 21, 2020 the official season 1 and season 2 soundtracks, composed by Jefferson Friedman, were released online.[31]
Crew
Gallery
Promotional images
Promotional videos
References