Harley Quinn is an adult animated web television series. It was announced on November 20, 2017 and premiered with "Til Death Do Us Part" on November 29, 2019 on DC Universe.
The series currently consists of two seasons with a third in production which is expected to premiere on HBO Max some time in 2022. In mid-2021 an companion comic series was announced and it debuted its first issue in September of that year.
Synopsis
Harley Quinn follows Harley's adventures after she breaks up with the Joker and strikes out on her own in this new, adult animated comedy. With the help of Poison Ivy and a ragtag crew of DC castoffs, Harley tries to earn a seat at the biggest table in villainy: the Legion of the Doom.[1]
Cast and characters
Main cast
Supporting cast
Episodes
Season
Episodes
Originally released
First released
Last released
Network
1
13
November 29, 2019
February 21, 2020
DC Universe
2
13
April 3, 2020
June 26, 2020
3
10
2022
HBO Max
Production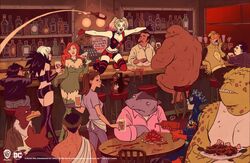 In November 2017, it was announced that Warner Bros' then-unnamed DC-branded digital service ordered 26 half-hour episodes of Harley Quinn, a half-hour adult animated action-comedy series. It was being developed by Justin Halpern, Patrick Shumacker, and Dean Lorey, who served as executive producers on NBC's DC series Powerless. Harley Quinn was the third series to be greenlit by the DC digital service, following Titans and Young Justice: Outsiders. It was rumored that Margot Robbie, who portrayed Harley Quinn in the 2016 live action film Suicide Squad, would be approached to voice the character.[10]
On February 2018, multiple casting calls from the series were released.[11][12] On October 3, 2018, Warner Bros. Animation unveiled a first look at Harley Quinn at the New York Comic Con. Kaley Cuoco was announced as the voice actress for the titular character, also serving as an executive producer through her Yes, Normans Productions banner, with Lake Bell, Alan Tudyk, Ron Funches, J.B. Smoove, Jason Alexander, Wanda Sykes, Giancarlo Esposito, Natalie Morales, Jim Rash, Diedrich Bader, Tony Hale and Christopher Meloni cast in undisclosed roles.[13] It was later confirmed that Bell, Tudyk, Bader and Meloni would be voicing Poison Ivy, the Joker, Batman, and Jim Gordon, respectively.[2][14][5] On October 11, 2018, Rahul Kohli announced that he would be voicing Scarecrow.[15]
The same day the season one finale was released, it was revealed that a second season was already produced and would be available to stream on April 3, 2020, consisting of another 13 episodes.[16] On September 18, 2020, it was announced via Twitter that the the show was renewed for a third season which would premiere on HBO Max[17] as DC Universe would no longer host video content and all DC Universe originals would migrate to HBO Max.[18] Co-showrunner Justin Halpern predicts the season will be released in late 2021 or early 2022.[19]
Release
On October 3, 2018, ahead of the annual New York Comic Con, a teaser trailer featuring Harley Quinn, Poison Ivy and Batman in Arkham was released.[20] A full, uncensored trailer set to Joan Jett's cover of the theme song from The Mary Tyler Moore Show was released on July 20, 2019 to coincide with the panel at San Diego Comic-Con.[21][22]
Harley Quinn premiered on DC Universe on November 29, 2019.[23] The first season started airing on Syfy on May 3, 2020.[24] The series airs on Adult Swim in Canada, with new episodes airing a week after their American premiere.[25] The series started airing on E4 in the United Kingdom and Ireland on May 7, 2020.[26]
In late June 2020, it was announced that the first two seasons would be coming to HBO Max on August 1, 2020.[27] On August 22, 2020, a fully animated Q&A featuring Harley Quinn was released as part of the DC Fandome event, wherein she answered questions from fans.[28]
The first season was released on DVD on June 2, 2020 and the second season was released on February 16, 2021 by Warner Bros. Home Entertainment.[29] The first two seasons were also released on Blu-ray in a box set by Warner Archive Collection on February 16, 2021.[30]
On August 21, 2020 the official season 1 and season 2 soundtracks, composed by Jefferson Friedman, were released online.[31]
On October 17, 2021 as part of that year's DC FanDome event, an animated teaser featuring Harley Quinn, King Shark and Kite Man presenting the first official look at the third season.[32]
Awards and nominations
Award
Date
Category
Recipient(s)
Result
Annie Awards
January 25, 2020
Best General Audience Animated Television/Broadcast Production
Harley Quinn
Nominated
Autostraddle Gay Emmys
September 2020
Outstanding Animated Series
Harley Quinn
Nominated
September 2021
Outstanding Animated Series
Harley Quinn
Nominated
Best Episode with LGBTQ+ Themes
"Something Borrowed"
Nominated
Critics' Choice Super Awards
January 10, 2021
Best Animated Series
Harley Quinn
Nominated
Best Voice Actress in an Animated Series
Kaley Cuoco
Won
Best Voice Actor in an Animated Series
J. B. Smoove
Nominated
GLAAD Media Award
April 8, 2021
Outstanding Comedy Series
Harley Quinn
Nominated
Annie Awards
April 16, 2021
Best General Audience Animated Television/Broadcast Production
Harley Quinn
Nominated
Outstanding Achievement for Writing in an Animated Television/Broadcast Production
Sarah Peters for "Something Borrowed, Something Green"
Nominated
Hollywood Critics Association TV Awards
August 22, 2021
Best Animated Series or Animated Television Movie
Harley Quinn
Won
Dorian TV Awards
August 29, 2021
Best Animated Show
Harley Quinn
Nominated
GLAAD Media Award
April 2, 2022
May 6, 2022
Outstanding Comic Book
Harley Quinn: The Animated Series - The Eat. Bang! Kill. Tour
TBA
Crew
Gallery
Promotional images
Promotional videos
References