"Batman's Back Man" is the fifth episode of the second season of Harley Quinn, and the eighteenth episode of the series overall. It was released on May 1, 2020 on DC Universe.
This episode is preceded and followed by a caricature of a redditor bemoaning Harley Quinn as a female empowerment show in the beginning, and then complaining about the weekly distribution model at the end, before torrenting hentai.
Synopsis
Bruce Wayne awakens from his coma to find Gotham in shambles. Meanwhile, Two-Face attempts to forge a criminal alliance with Bane, to be the only two Big Bads left in Gotham.
Plot
Following the episode's cold open, Batman awakens in his bed, his hair and beard grown to unkempt lengths following his coma. He staggers to his window where he sees a picturesque, happy version of Gotham, until he moves aside the painting and sees New New Gotham in utter chaos. Stunned, Batman falls to the floor and calls out for Alfred Pennyworth, who arrives with breakfast and tea, insisting that Batman get back into bed so that he can make a full physical recovery. He even offers to be "binge buddies" to watch the 312 TV shows that came out since his coma, but Batman insists on fighting crime immediately.
Commissioner Gordon is brought to Batman's mansion, where he explains the state of absolute chaos that Gotham has fallen into. He quickly believes Batman's lie about "doing stuff" (rather than being in a coma) for the past few months, and jumps right into a list of things he wants Batman to pay for "so I can take back the city", including both an entire bankrolled police force and personal frivolities for himself. Shocked, Batman asks if there are truly no other superheroes in the city, at which point Gordon shows Batman the handful of amateurs who are trying: the Macaroni, an Englishman with a mechanical powdered wig; and Batgirl, taking up the mantle of Batman.
Meanwhile in the remnants of the Injustice League, Two-Face is concerned because he heard that Harley "took down" Mister Freeze, although he still continues to mistreat and make fun of Bane, the only other Injustice League member left. Even so, Bane makes the astute suggestion that they join forces to protect themselves against Harley Quinn, but Two-Face is still contemptuous of Bane and confident that he can handle Harley Quinn. He rejects Bane's offer, continuing to mock him.
Back in Batman's mansion, he watches online as Batgirl live streams fighting petty crooks to her million+ viewers. When Alfred arrives, Batman complains about her, which Alfred summarizes as anger at "the unsanctioned use of your logo". Alfred declares that there's nothing to be done for it due to Batman's weakened physical condition, but Batman goes out anyway to attempt to dissuade Batgirl from her vigilantism. Batgirl squeals excitedly when she first sees him but assumes that his concern is her using a copyrighted logo, only to then brush off his concern when she realizes that Batman thinks it isn't safe for her. She insists that she can handle herself, only for Batman to contemptuously knock out a petty goon behind her, saving her without even moving his feet.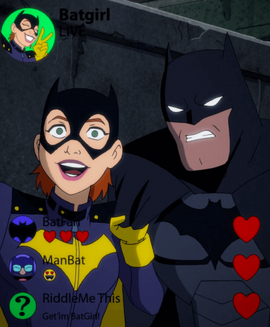 Batgirl's joy overflows, and she announces to all of her followers that Batman is back, including him in her livestream. This prompts the city's residents to rise up against the Injustice League's tyranny, hopeful now that Batman has ostensibly returned. Alfred then chastises Batman, saying that all of Gotham is "as full of false hope as an undercooked meat pie". He insists that Gotham's protector should at least be able to put his own socks on, which Batman cannot do in his debilitated state, and tries to get Batman to listen to him by mentioning all his loyal service to Batman from when he raised him as his own son, loved him unconditionally, and even changed his diapers when he was in a coma. However, Batman argues that he has no knowledge of what it's like to be a warrior, disregarding Alfred's military service as fighting over "who gets the last scone".
❝ Your ego is writing checks your broken body cannot cash, sir. ❞
Still angered, Batman calls for Lucius Fox to build him a mechanical suit to help him fight crime. Meanwhile, Two-Face is panicking over the return of Batman and invites Bane back to the Injustice League to discuss his proposition of a deeper alliance again. He even gives Bane his own executive office chair and a drink, which overjoys Bane. Although he is suspicious that Two-Face only reconsidered the alliance due to Batman, he nonetheless accepts so long as it's a 50-50 partnership. Immediately, however, Bane notices that Two-Face's proposed branding literally only has himself on it, with Two-Face claiming that the "two faces" includes himself and Bane.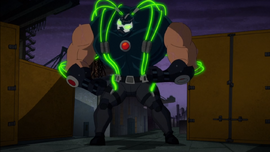 In the Batcave, Lucius has built Batman a titanium bat suit to compensate his weakness, complete with a tech support AI called Monica. Alfred arrives and immediately deduces what Batman did, forbids Batman from leaving, and takes his bat suit up to his room to prevent Batman from getting it. Batman simply waits for nightfall and steals it from his room. He finds Two-Face's goons and begins fighting through them with ease until he discovers Bane, who Batman assumes is not part of the operation. Enraged, Bane attacks Batman while declaring that he is "equally in charge". Batman initially has the upper hand after blasting Bane away, but his suit becomes damaged after a repeated pummeling from Bane, eventually breaking down and allowing Bane to break his legs.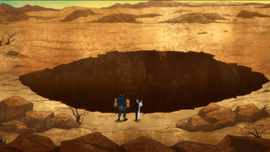 Broken and defeated, Batman is left on the ground while Bane angrily leaves to settle accounts with Two-Face regarding branding. Batman tries to have Monica call Lucius Fox, but the bat suit shuts down before it can, leaving Batman helpless before Two-Face's minions. They string him up and intend to post a video of his destruction, but the Macaroni and Batgirl arrive to save Batman. The Macaroni turns out to be Alfred himself, who has Batgirl help him take Batman to safety. While they do so, Bane arrives at the Injustice League in a rage, only for Two-Face to convince him to calm down. He doesn't change their branding, but he does give Bane a large hole in the ground, which Bane loves.
Batman, finally admitting his limitations, comes before Jim Gordon and tells him that he isn't physically able to work as he did before, and gives Batgirl his blessing to take up the standard in his stead until he has healed.
Cast and Characters
Cast
Cameos
Trivia
This is the first episode where Harley and her crew don't appear, excluding their cameo in the episode's cold opening on the nerds' television screen.

Despite not having any lines in the episode Kaley Cuoco is credited for the voice of Harley Quinn.

Lucius' name is misspelled as "Lucious" in the closing credits.
In the episode's cold opening, Ian and Brian are arguing the alleged plot-hole of The Lord of the Rings novels and movies in which Gandalf could have destroyed The One Ring by tossing it into Mount Doom by means of flight, as opposed to the long journey on foot seen in the story.
Ian voices many of the arguments and criticisms that some fans and movie-goers of action and superhero movies often have with female leads, such as citing the Mary Sue stock character, heavy-handed subtext against patriarchy and that only preteen girls would enjoy such movies.
This episode's cold opening pokes fun at, and references, other DC Comics media and DC Universe properties:

The shirts worn by the nerds in the cold open reference two controversial movies in geek culture in the 2010s; the "Release the Snyder Cut" shirt references the 2017 film Justice League and a director's cut from Zack Snyder that's supposedly an improvement over the original called Zack Snyder's Justice League; the "The Last Jedi is not canon" shirt refers to the 2017 film Star Wars: The Last Jedi, which was negatively received by franchise fans despite positive reception from critics.

Star Wars: The Last Jedi is the only non-Warner Brothers property spoofed in the episode's cold opening.

The nerds are watching Harley Quinn off of DC Universe, Warner Brothers' streaming service for all DC Comics related media. Next to Harley Quinn is Young Justice: Outsiders, another adult animated series which aired on DC Universe.
Brian, the nerd wearing the "The Last Jedi is not canon" shirt, brings up the crime drama television series Gotham as a rebuttal to Ian's comment that he wouldn't watch a show set in Gotham City that barely features Batman.

Ian remarks that if the episodes "sucks" they will watch Family Guy instead.
Ian criticized DC Universe's distribution model when they realize they have to wait another week for the next episode.
Alfred masquerades as a vigilante called the Macaroni. The Macaroni was an existing fashion trend in 18th-century England, when wearing flamboyant suits, makeup and oversized wigs. Whenever the Macaroni appears, an English version of "Yankee Doodle" plays.
Bane's remark, "No that is a shadow. I was born there, but that's not me" is a reference to Bane's origin in The Dark Knight Rises.
When suggesting an alternative to Two-Face's poster for their partnership, Bane references the 1988 movie Twins's promotional material which included posters of the two leads; one of Arnold Schwarzenegger with the text "DeVito" and the other of Danny DeVito with the text "Schwarzenegger".
The new mechanical Batsuit that Lucius built bears a striking resemblance to the Hellbat armor from the comics.
The various aspects of the new mechanical Batsuit, such as its titanium armor plates, the in-built advanced AI, and the way in which the various parts of the suit are able to attach themselves on to Bruce could be a reference to the Marvel superhero, Iron Man, particularly the Mark 42 armor of his MCU incarnation.
Bane breaks Batman in this episode, a reference to "Batman: Knightfall", but instead of his back, he broke his legs.
The very same basement where the nerds are hanging out reappears in the cold opening of "A Fight Worth Fighting For". But instead of Brian and Ian giving the meta-commentary, Frank the Plant and Chaz the weed dealer are smoking pot and breaking the fourth wall.
Gallery
Video